Math can be a challenging subject, especially for parents who have gone through the rigourous education system and now trying to guide your children. While some children are naturally inclined to math and take to problem solving and critical thinking very easily, there are others who struggle with their math homework constantly. Math is conceptual and if it is not taught to students in an engaging manner, it may remained as a subject that puzzles many students and adults alike. Math tuition in Singapore continues to thrive as students and parents seek for ways for their children to excel in this subject.
3 Reasons Why Your Child Needs A Math Tutor:
1. Is Math is getting harder in school?
The Singapore Math Curriculum has been structured with the rigour of balancing between concepts, skills and applications. The rigour of conceptual understanding necessary for problem solving has been the concerns of parents as they were not able to use the methods they know from before to new and novel problems they see in their children's books. Even years back, in 1988, the Straits Times have reported that the members of parliament were similarly unable to deal with a PSLE math question. Parents brought up their concerns that the primary school math examinations were getting too hard, and this uproar reached parliament, where the Minister of Education then gave his response to this issue.
This is an example of math questions that have blazed through Facebook, attracting the attention of both Singaporeans and those from other countries alike. This math question was posted by the Singaporean TV presenter, Kenneth Kong on Facebook. The question then rapidly made its way all over the internet and became viral. People all around the world were shocked by how tough the question was, and many could not believe that this was what a Primary 5 student, at age 11, was supposed to be able to do. To be fair, this is not a regular Primary 5 question. This is an instance where such question were given to a particular class in a particular school and it became viral. Such question could have been given to challenge their students to think flexibly and the teacher could have thought that her students would be challenged and engaged with such questions. Nonetheless, such question got to the media and hence generated a frenzy.

Image by SAYS
Parents seeing such question got worried that their children might not be able to solve it. All parents want to give the best to their kids to make sure that they are able to do well in class and perform to their best abilities in school.
If your child is having a hard time dealing with regular math questions in their homework, perhaps math tuition with a reputable tutor is needed to help him along in his school work.
2. It is hard to be your child's personal math tutor
With the perceived increasing difficultly of math in school, many parents are also stumped by the novel problems that appear in the exams. Especially since many of us have not touched or thought about math for years after leaving the education system, these math concepts and problems will be foreign to us. Besides that, the math curriculum has since evolved, and new methods of solving these problems are currently being taught in school. One example would be the use of bar models. Some of you reading this might not know what this method is, much less be able to teach your child how to use this method. Hence, even if you want to personally tutor your child and help him along with his math homework, you might not feel limited.
Some of us understand the new methods and are also a graduate who majored in mathematics. However, we soon realized that being a brilliant math scholar and be able to teach are two different skill sets. Teaching takes years to develop and hone— professional teachers have to go through years of training before they teach with MOE. Especially if your child is younger, reaching out to them and making sure that they understand these difficult concepts is an uphill battle. It is hard to be both a parent and a tutor at the same time, and you would have to grapple with dealing with your kid in these two different roles.
For parents who have experience in teaching and are also well acquainted with the current syllabus, teaching your own child is a great idea. However, if you are also a working parent, it can be hard to carve out sufficient time to tutor your child. After a hard long day at work, you need time to relax and spend quality bonding time with your child. Tutoring your child in math might be the last thing on your mind. Also, most parents only get home in the evening, after dinner leave you little time for your child to get his tutoring session with you before his bedtime. Having a tutor who have a compilation of practice questions and resources to give your child additional practice and help could be a good option for working parent.
3. You want your child to keep up and excel with school work
Many parents perceive doing well in the PSLE as a determinant to entering a good secondary school, which sets the path he later takes in his tertiary education. With much competition and a drive to excel, you too want your child to excel. Many parents are willing to invest in sending their children to additional programmes outside school hours, including tuition. We have compiled some tuition centres and options for your consideration:
Top 9 Math tuition agencies in Singapore by Google
1)
North

True Learning Centre (Novena)

Image by TLC
Location: 179B Thomson Road, Goldhill Shopping Centre, Singapore 307626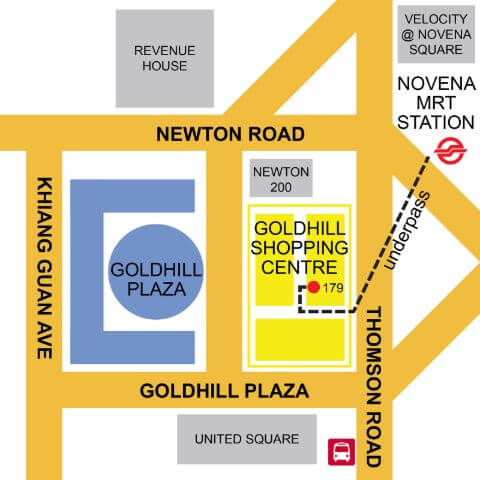 Image by TLC
Hotline: 6708 9382
Nearest MRT station: Novena MRT Station (Take Exit B towards United Square via underpass)
True Learning Centre was established in 2010, and aims to provide quality tuition help to students of all ages, ranging from primary school to secondary school and junior college students. While the tuition centre also offers classes for other subjects, their focus is on mathematics. The centre has a well qualified team of NIE trained tutors with them, and believes that the methodology that they use in their teaching can help students to unleash their full potential. They are also known for their creative, innovative and student oriented tuition services, and hope to empower your child to achieve excellence both in school and in life.
Student Liu Qingyi, from Victoria Junior College, was clearly more than pleased with her experience at True Learning Centre— "When I joined TLC in mid J1, I was having difficulty with Mathematics. However, with Mr Tan's clear explanation and concise notes, I was able to grasp the concepts and apply them immediately by doing the questions given. Whenever I had any problems, Mr Tan will explain and clear my doubts patiently. My math results have improved significantly under Mr Tan's guidance. Thank you Mr Tan."
The Learning Lab (United Square)

Image by TLL
Location: United Square 101 Thomson Road, #03-03 Singapore 307591
Hotline: 6733 8711
The Learning Lab is one of the most well known tuiton centres in Singapore, and has a history of 18 years. They offer classes for preschool to pre-tertiary students, which means that it really is a place you can send your kids to regardless of their age. The centre also boasts over 50 curriculum specialists, who work specifically to create novel, relevant and interesting lesson plans, making sure that your child is kept engaged and learning as much as he can week after week.
The Learning Lab works on its Knowledge, Skills and Disposition model, and believe that this approach would best produce students who are well rounded and exemplary in their studies. The centre aims to impart the relevant content knowledge that your child would need at each stage of his school years, teach your child skills that are useful not only in formal exams but also in his daily life, and also to nurture your child as a person, setting him up for success and progress in the next stage of his life.

Image by TLL
Ms Joyce, parent of a P1 student who is enrolled in the mathematics class in The Learning Lab, is just one example of a satisfied parent who has enrolled her child at the centre— "Jervis looks forward to his Math lesson every week. He enjoys doing the worksheets especially the advanced and challenging ones given by his teacher. The teachers are able to assess my boy's weakness from his work and will also discuss with me after each lesson how they will help my boy and how I can revise with him at home. Special thanks to his Math teacher for her patience and fun loving ways to make the lesson interesting for my boy. TLL has prepared him well for his school tests and he understands the concepts well."
SmartLab Education Centre

Image by SmartLab
Location: Blk 818 Woodlands Street 82 #01-419 Singapore 730818
Hotline: 6363 2383
SmartLab has been in the tuition industry for 19 years, and has developed a comprehensive curriculum over the years. The centre aims to take learning beyond the classrooms and to develop a lifelong interest in the children for learning. Besides that, the centre also conducts holiday programmes that are specially designed to make sure that your child is well prepared for their next step in learning. These holiday programmes include exam workshops, which are dedicated to helping your child to become better prepared in tackling likely exam topics.
Student Estelle Chua Kai Jin has saw her grades improve upon enrollment with SmartLab, claiming that— "My AMath results improved from D7 to A1 within just 3 months. A million thanks to SmartLab tuition centres!"
2)
South

Maths Hub (Redhill)

Location: Block 57, Lengkok Bahru #01-477, Singapore 151057

Hotline: 6562 2497 / 6567 9484

Maths Hub first opened its doors to classes in 2004, and was established by Mr Michael Lim, an educator whose passion lies in teaching mathematics. The first branch of this now successful chain of tuition centres was located in Bukit Batok, and Maths Hub has since expanded to numerous locations throughout Singapore.

Maths Hub offers a number of different mathematics programmes that you can choose from. If you are looking to expose your child to new problems beyond the school syllabus, and your child is up to the challenge, they offer a Fusion Math programme that aims to develop your child's interest and knowledge in maths beyond what is taught in school. If you are simply looking for a class to help your child along with what he is being taught in school, and to gain mastery of the school math syllabus, there is also a class for your child that reinforces what is taught in school. The centre also offers an IQ Mathematics programme, which focuses on a multifaceted approach that aims to help young children develop an interest in math through a practical approach. There really is something for every child, regardless of what you are looking for.

Nanyang Educational Consultancy (Tiong Bahru)

Image by Nanyang Educational Consultancy
Location: 67A Eu Chin Street, Tiong Bahru Community Centre, Singapore 169715
Hotline: 6220 7884
Nanyang Educational Consultancy was established in 2008, and has gained a great reputation over the years as being a reliable tuition centre. Besides offering traditional teaching lessons, they also provide an e-learning based platform to accommodate the various interests and needs of each student. By leveraging on the latest technologies, the centre homes to generate and capture the interest of their students by making sure that the learning process is as interesting as it can be. The centre also engages a panel of professionals to design the teaching material for every lesson, making sure that the lessons are based on the learning pace of each individual student. They also have a Tutors Mentoring Program, where the tutors provide specific help to each student. The progress of each student is also monitored periodically, making sure that they continue to be on the path of improvement and success.
Student, Ng Wei Yong, whose Additional Mathematic grade improved from a B4 to an A1, claims that, "At Nanyang my teachers are so patient with me, helped me with my studies and school work and guided me in my learning path. They set time schedules for me to focus on my studies, taught me how to achieve my goal and get the result I wanted by staying away from all distractions. They shared with me valuable exam tips and strategies and taught me how to answer different types of questions. I am very thankful to all my teachers!"
3)
East

The Physics Cafe (Paya Lebar)

Image by The Physics Cafe
Location: Eunos Road 8, Singapore Post Centre #01-207 Singapore 408600
Hotline: 9100 1235
The Physics Cafe boasts a team of well trained tutors, who they claim are all paid up to three times the pay of an average tutor in any other tuition centre in Singapore, making sure that the tutors are of top quality. The tuition centre has been recommended by numerous sources, such as The Strait Times and The Smart Local. They have also gathered more than 3000 reviews from their past students on how they have improved their grade after taking the lessons at The Physics Cafe.
For instance, Vivian, a student at The Physics Cafe, claims that, "If there are any words to describe Miss Toh, I think it will be gentle and smart. I can remember vividly how she whipped out her pen and a blank piece of paper to give me an overview of a chapter which I have missed cos I joined her class later. She clarified my doubts in mere 30mins. A monstrous chapter miracously turned into something so intuitive and easy. I guess this was one of the first few personal encounter with Miss Toh that strikes me with that impression. No wonder people says first impression counts. Haha.. ok, overall, Miss Toh is the best math tutor I have so far.. which explains why I have sticked to her until my big Os… Thank you Miss Toh".

Mavis Tutorial (Bedok)


Image by Mavis
Location: 739 Bedok Reservoir Road, #02-3141, Singapore 470739
Hotline: 6241 8145
Mavis Tutorial Centre only employs full time tutors, many who were previous school teachers and boasting a wealth of experience in their fields. Most tutors are also very willing to conduct additional lessons when it comes closer to the major examinations that your child would have to tackle in order to best prepare your child for the battle ahead. The centre also prides itself on their specialised in house curriculum that their tutors continuously work on and improve on to make sure that the lessons are conducted in the most engaging way possible for the students. This makes sure that the students will enjoy the process of learning, and look forward to every class at the tuition centre. The tutors at Mavis Tutorial Centre are not only professional and good at their jobs, but are also willing to put in extra effort to make sure that your child leaves the centre doubt free.
4)
West

The Math Lab (Farrer Road)

Image by The Math Lab
Location: Blk 4, Queen's Road #02-121, Singapore 260004
Hotline: 6475 0624
The Math Lab has been established for 12 years, and is a tuition centre that is dedicated only to teaching mathematics. From its start as an establishment of only two math tutors, the centre has since grown to be so much more. Today, The Math Lab is one of the few established math tuition centres in Singapore that only focuses on teaching mathematics. They also claim to only hire the best math teachers, who have a true passion for teaching and boast impressive track records. The syllabus is crafted by MOE teachers, and the materials that they use are derived from those used in the top schools in Singapore. Class sizes at The Math Lab are also kept pretty small, ranging from 10-12 students or 5 students if you opt to sign your child up for the intensive class.
AGrader Learning Centre (Clementi)

Image by AGrader
Location: 431 Clementi Avenue 3, #01-344, Singapore 120431
Hotline: 6904 0021 / 9824 1042
AGrader Learning Centre is an established name in the math tuition sector, and is also probably one of the most advanced in terms of embracing technology in their lessons. They are one of the only few tuition centres who have installed smart boards in all of their classrooms, allowing them to better use interactive elements in their lessons to make sure that every child is kept engaged while learning at the centre. All of the teachers here are also NIE-trained or are full time tutors, who are carefully selected to make sure that they are capable of giving your child the best learning experience possible. The curriculum writers at the centre also craft each lesson here with much care, taking extra effort to make sure that each lesson is easily understood by the students. In fact, the centre has also received feedback from parents that the worksheets that are issued at the centre are better and more organised compared to the worksheets that their child gets from school!
Alternatives to Tuition Agencies
While these different tuition options listed above are great, these traditional tuition centres either are not what you are looking for or do not suit your needs in this modern world. An up and coming alternative way to get your child the help he needs for his math homework is online tuition. This is an option that is becoming increasingly popular in Singapore, simply because of the many benefits that it comes with. It saves you travelling time and cost and your child could get help at the comfort and safety of home or wherever you may be. Even when you or your tutor are overseas, you may still log on with your tutor online. If you are interested in signing your child up for live-online math tuition but do not know where to start, one of the best online tuition services for math in Singapore is undoubtedly iMath.

Image by iMath
iMath is an online learning community that is focused on mathematics. They strive to provide on demand help at a low cost and whenever you want. Due to the broad base of online Math enthusiasts on the platform, this makes sure that your child would be able to reach out to them for help wherever they are and whatever time it is. Students can make use of the Community Wall to post the questions that they are stuck on, which can then get responses from the other members of the iMath community. If your child require more guidance and help than that, he can also always request for a 30 minute video call session with any of the tutors who are currently available and online.
If your child is the kind to forget what was taught to him and require constant refreshers on new concepts before it is stuck in his head, fret no more as the online tuition sessions held on iMath can all be recorded, including the writing on the Whiteboard. This means that your child will be able to revisit the lesson whenever he wants in order to revise the concepts and really store it in his head.
The community wall feature on iMath also boasts a plethora of answered and unanswered math questions that your child can use for practice, making sure that he has access to a wide variety of math questions to test if he has gotten the methods right. Practice makes perfect, and with the numerous questions available for your child to practice the new math skill he has picked up, he will soon be a master at solving these problems in the future!
Many parents today are also extremely busy with their own work, and have schedules that are simply packed to the brim. The creators at iMath are definitely aware of this problem that many parents face, and hence, the app also boasts features that will help you along. With the iMath app, you will be able to track all of the confirmed sessions for your child, and the upcoming sessions can also be featured as a reminder. For all you busy parents out there, iMath has got your back, and will definitely make it a lot easier for you to be on top of your schedule!
In fact, Ellen Kuah, the parent of a P6 student using the iMath platform, commented that: "iMath is a great innovative way to have Tuition! Flexible timings and good pool of teachers to choose from and most importantly, you can have your session anytime, anywhere! My daughter is absolutely loving it and she books her own tuition timings now. Thank you iMath".
With these fresh teaching methods and platforms, math can be made fun, exciting and convenient. For all the parents out there, if you are looking to get your child some extra help with his math homework, we hope that this article finds you well, and leaves you with some idea of where to start looking for the best tuition option for both you and your child!