A progressive and competitive education system—this is what's responsible for the tuition boom and the growth of education technology or "EdTech" in Singapore. Due to the increasing demands of both parents and students looking into various educational alternatives, two industries that decades ago no one has seen rising are now seen as established fields in Singapore, with EduTech making waves in the global tech scene and putting Singapore on the map as "Asia's Silicon Valley." All of these, in addition to the birth of world-renowned Singapore Maths—or simply, Mathematics instruction using the country's pedagogical approach—have made Singapore an education powerhouse not only in Asia but all over the globe.
As prestigious and commendable as it may seem to the rest of the world, these accolades come with implications—both good and bad—that are for Singapore students, parents, and educators to bear. For one, the Ministry of Education (MOE), with its promise of "no child left behind," has to come up with ways of bringing its public school curricula at par not only with local private schools but with global education standards. And this is no easy feat, seeing that neighbouring Asian countries like Thailand, Bangkok, Cambodia, Indonesia, Philippines and Malaysia struggle not with producing world-standard academic content but with something far more basic: sending its children to its public schools. Yet this is not a problem in progressive Singapore as its Ministry of Education makes Primary School compulsory to all school-aged children, utilizing its public school system and constantly working to improve state-sponsored education. With this in mind, Singaporean students are far more fortunate than their same-aged peers in nearby Asian countries. However, this leaves Singaporean students with both a blessing and a burden, as receiving world-class education entails having to adjust to global-standard or advanced content that sometimes, even parents themselves have a hard time understanding, more so, teaching to their children. And this is where tuition enters the picture.
As an industry, tuition is worth at least a billion Singaporean dollars. As a field, tuition is similarly competitive to the education system that it caters to. Its increasing demand paved the way for its expansion—from traditional tuition centres to small-group tuition classes, one-to-one private tutorials, online tutoring, and live one-on-one online tutorial—tuition has come a long way, turning ordinary tutors into "super tutors" and ordinary teachers into "super teachers."
EdTech, on the other hand, is a bit younger in years compared to tuition in Singapore, with start-ups emerging only a few years back to provide an alternative learning venue for students—the Internet. With the Internet, nothing is impossible, and this is what budding EdTech companies bank on. With the aim of simulating traditional classroom setups while increasing interactiveness through digitized versions of classrooms or what they call "digital classroom" or "virtual classroom," Edtech develops and innovates ways to bridge learning gaps by harnessing the powers of modern technology.
As the future of education in Singapore looks into these two educational alternatives—and how they can, when combined, form an ideal educational supplement to mainstream schooling—we will set out to consolidate and discuss reviews made by students, parents, and fellow educators on well-known online tuition platform: Superstar Teacher.
The basics about "Superstar Teacher"
Superstar Teacher
Website
https://www.superstarteacher.com.sg/
Address
996 Bendemeer Rd, Singapore 339944
Phone
+65 6341 5516
E-mail
support@superstarteacher.com
Nature of Business
e-Learning Service Provider

Basic Services/

Products

Pre-recorded Video Lessons

Supplementary Materials

Auto-marking Assessments

Instant Homework Help

Courses/Levels/ Subjects
Primary Math, Primary Science, Primary English, Primary Chinese; Secondary Math, Secondary Science, Secondary English, Secondary Chinese
Free Trial Lesson
First three minutes of a lesson can be viewed free of charge
Minimum Rates
$528 per Primary Level subject; $598 per Secondary Level subject
Payment Methods
Visa, Mastercard, or E-nets
Refund/Exchange Policy
Not Applicable
Mobile App Availability
Yes, through the Apple Store or Google Play
Motto
"Discover a brand new online learning breakthrough."
History / About
Developed by a team of curriculum specialists in 2011 and delivered by their best teachers, lessons in Superstar Teacher promise to be fun and engaging. Interactive quizzes are embedded into the lessons to assess students understanding, while supplementary materials like worksheets can be downloaded or printed and used along with the videos.
Mission
"To be an online learning platform with the best teachers in the industry and comprehensive coverage of the Singapore MOE syllabus. Lessons delivered will focus on topical coverage and strategy-based learning to tackle tough schools' and national examinations (PSLE and 'O' levels)."
Vision
"Students of different learning capabilities can attain subject mastery with Superstar Teacher as their learning platform. Students can expect to achieve A* or high As (Band 1 for other levels). Students who have been scoring lower grades can also aim to improve by 20 to 30 marks."
Founder
Blue Orange Pte Ltd
About the Founder
Founded in 2001, Blue Orange is a learning technology provider of media solutions with a vision to provide internet-based learning solutions.
What students and parents have to say
1. From the Superstar Teacher website (https://www.superstarteacher.com.sg/)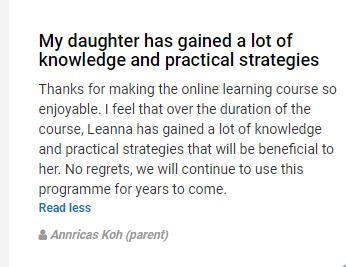 Testimonials from the Superstar Teacher site tell us some of the evident benefits of Superstar Teacher: (1) Aids in the learning of a lesson or a subject matter by allowing a student to access learning materials anytime, anywhere, at the student's own pace; (2) Offers clear and interesting lectures of concepts and practical learning strategies on different topics across various subjects, and; (3) Serves as an alternative to "external" tuition. Students and parents who attest to these benefits say that in turn, these positive effects helped them in getting into their dream school as well as in the achievement of high scores in academic exams.
2. From Facebook reviews (https://www.facebook.com/pg/SuperstarTeacher/reviews/)
Meanwhile, these reviews from their Facebook social media page reveal that Superstar Teacher provides: (1) Enjoyable video lectures and the ability for students to "retrieve" lessons or go back to lessons that they find challenging to comprehend or grasp in just one viewing; (2) Effective teaching and interesting lessons on a number of core subjects, and; (3) The possibility of monitoring a student's learning progress while he is using the Superstar Teacher instructional materials.
3. From KiasuParents (kiasuparents.com)
Based on these reviews from the KiasuParents website, a number of parents agree that Superstar Teacher: (1) Comes with a pretty steep price tag ($528 per primary level subject; $598 per secondary level subject) and at that, is said to be a "heavy investment," yet parents who have busy schedules and have no time to tutor their child are willing to shell out money in order to help their child improve their scores and performance academically, and; (3) The worksheets provide content that is challenging enough, yet ample time is needed to go through all the video lessons in order to gain the knowledge and skills necessary to answer the worksheets correctly.
In a nutshell, these are what parents and students say about Superstar Teacher according to the reviews and testimonials presented here.
1. Superstar Teacher provides effective assistance to students struggling with core academic subjects. The way Superstar Teacher does this is by making sure that its video lectures are served up in a fun and interesting manner that children can find enjoyable while also providing informative content and practical strategies that children can bring with them and use come examination time or even during national assessments.
2. Superstar Teacher offers on-the-go learning materials that can be a good substitute to "external" tuition. With busy schedules and time constraints, some households cannot really afford to go through the motions of seeking for different tutors and trying each one just to be able to find the "right tutor," especially when exam period is coming up. Some parents, despite having finally found the right tutor or tuition centre for their child, cannot maintain the commitment of having to drive their child to the tuition centre or to ride the public transport just to be able to attend tuition classes. Others simply do not wish to endure extra hours of instruction in tuition centres simply because they want their child to receive personalized instruction and be able to personally watch over their child's learning progress. With what Superstar Teacher offers, parents are able to have an alternative to tuition that doesn't require them to fit in tuition class schedules into their already busy weekdays or to commit to hours of driving to attend tuition sessions.
3. Superstar Teacher may be an effective alternative to tuition. Its cost, however, can be too much of a financial burden for most parents. All Singaporean parents know: raising a child in Singapore is expensive. As it is, tuition doesn't come cheap, and if what you are looking for as a parent is quality tuition, then you may have to set aside a budget for this. With Superstar Teacher's services currently priced at $528 per primary level subject and $598 per secondary level subject, this can be too costly, especially for low-income earning households, or middle-income earning households that are already tied to other financial commitments. At present, $528 is equivalent to 389USD while $598 is equal to 443USD. Even by American standards, that is already seen as pricey, as that amount can already buy you a brand new Apple iPhone 8 model. In Singapore, $528 is three times more than what an average four-member family pays for in monthly electricity bills (the average bill is $156.71), so one can only imagine what $598—close to $600—can afford to purchase. Of course, your computation as a parent would be to divide the cost in the number of days your child will be using the materials, but for parents who simply cannot save up for a one-time payment of $528, this simply cannot be a part of their option. That is why if you as a parent go through KiasuParents' forums on Superstar Teacher, you will see most parents talking about splitting the expenses and sharing the services, usually through a number of "hacks" that these smart or budget-savvy parents have learned after some time: (1) For parents whose child will be moving up a level, allowing a new parent to use or "take over" their old account, since paying for a new account is more expensive than simply renewing one ($528 per subject; renewal is at $99); (2) Still for parents whose child will be moving up is selling worksheets that they won't be using anymore—Superstar Teacher worksheets have an expiry date, however; (3) Sharing an account with another parent or other parents to lessen the cost—something that Superstar Teacher banned in 2018 and is a cause for a paid account to be cancelled or forfeited, terminating all access to the video lessons and services offered by the platform. That said, despite reviews on some of its positive effects, Superstar Teacher may not be for everyone.
What we have to say
As fellow educators trying to bring competitive tuition to the table through the modern technology platform that is the Internet, we have to admit that though quality tuition really doesn't come cheap, it definitely doesn't have to break the bank. That is why iMath came up with the solution of forming a community of math experts and enthusiasts to help your child make progress in mathematics while making sure that affordable tuition is provided to any student who may need it—wherever he or she is, whenever he or she needs it. iMath offers a win-win solution to both parents and students: as students benefit from fun and interactive lessons given by our curated tutors, parents are not tied to the commitment of driving or commuting to daily tuition sessions and can still have the time to monitor their child's learning progress. More importantly, for just $15 per session, parents can rest assured that their child can be afforded tuition help right at the comfort of their home without having to worry about steep tuition costs—download the iMath app today!