The year 2020 brings us a brand-new year—and the closing of a decade as well. The last ten years have brought us the best technological innovations that have changed and are still changing the way we learn, communicate, and make sense of the world. Companies like Apple, Google, and Facebook are at the forefront of these changes—and tech's multi-billion industry—and they have introduced in the last decade a whole new world of possibilities through computer software and online services that have driven the technological revolution forward and have made life easier. For adults, the way business and leisure is done has changed wholly to the point that a business meeting or shopping for the family can now be done at the comfort of one's own home, with just a click or a swipe away, through the use of a gadget like a laptop or a mobile phone and Wireless Fidelity or WiFi. For children, especially those belonging to what is called the "Gen Z" (children born between 1995 and 2015 hence aged 4 years old and above) population, such technologies seem part of "normal" everyday life because they grew up knowing these innovations. Nevertheless, the way parents see it now is that anything from their child's learning to his entertainment or play can be accomplished at home, with minimum effort and utmost supervision, with the aid of a stable WiFi connection and a modern portable device like a tablet.
Image from Flickr.com
In Asia's tech giant Singapore, recent technological advancements have found their way into business and everyday life. Dubbed as a "miniature Silicon Valley" by Fortune 500 brand Hewlett Packard, Singapore is being shaped at the moment by technologies that neighbouring Asian countries are yet to discover and delve into. One note-worthy example would be the way Singapore incorporates modern technology into its education sector, which makes educational technology or Ed Tech—a growing global field that studies how the latest technology can help better education and pedagogy—thrive and shift tides in Singapore's education system and its alternative modes of learning.
The said shift is apparent in the country's tuition industry. Driven by a competitive and meritocratic system that refuses to rest on its laurels, Singapore has always had a strong commitment to education and life-long learning. This, combined with the flourishing field of Ed Tech and perhaps with the demand for a more flexible and convenient alternative mode of learning for children, helped raise the demands for online tuition.
But just how modern is online tuition? How different is it from traditional tuition centres or private face-to-face tutoring? More importantly, what are your options as a parent? We'll help you sort out these questions in this article.
Benefits of going online
Online tuition is a fairly new method of tuition in Singapore. All those years of churning out top-performing students locally and globally, tuition has been done either in classroom- or small-group-settings in tuition centres or through individual face-to-face tutoring—both of which comes at great cost. The previous year showed Singaporean families spending a total of S$1.4 billion on tuition alone for their children. Not included in this figure is the amount spent on gas or fare, or the time lost in traffic or in travel as parents drive/drop-off their children to tuition centres or at an agreed place, or the time it took to book a class or a tutor that would fit both the child and the tutor's schedule. But all of this is slowly changing as online tuition ushers in flexible options for parents and quality after-school education for children.
Online tuition makes use of the fact that parents need a tuition option that is flexible, and that children these days have grown accustomed to using, if not immersed in, the latest technology. Studies show that 8-12 year-olds in Singapore spend an average of 35 hours a week in front of digital screens—a number which increases when screen time for homework assignments is factored in. This may seem alarming to parents given the dangers of unsupervised use of gadgets and the Internet, but what online tuition does, partnered with parental supervision, is direct idle or unproductive use of computers or devices into something productive, like connecting to or learning from an academic coach or tutor.
From the 2018 DQ National Impact Report - Singapore
Aside from channelling unproductive downtime into useful study hours, online tuition boasts of a few other advantages. Here are some:
• Interactive classroom – One great thing about online tuition is how interactive it can be, especially for primary school-aged children. Virtual classrooms come equipped with these basic features that aid in tutoring: video conferencing to facilitate live, face-to-face communication between student and tutor; messaging to allow the child to communicate with the tutor in writing; virtual or online whiteboards for writing notes or drawing illustrations; and a recording option for replaying live lessons—useful for parents when they themselves want to learn the topic and reiterate it to their children, or when they need to review lessons with their child. There are other features such as file sharing and live screen-sharing, but these features are usually used by much older children/teens.
• Immediate Feedback – Unlike a traditional classroom, which is more or less similar in setup to a tuition centre, online tuition provides real-time immediate feedback. This is important especially for younger children because their brains are like sponges that absorb everything they learn, and so parents or teachers/tutors would want to be quick to give them constructive and positive feedback.
• Student-centred approach – In a typical classroom setup, the delivery of content or lessons is the teacher's main concern. Hence, the participation of each individual student isn't required or strictly monitored, causing some students to remain passive during entire lectures and end up not learning or understanding the subject matter. For an online session to be successful, the tutor and the student have to interact equally. Thus, students are compelled to actively participate in order for the lesson to move forward. Otherwise, the tutor will teach and reteach the subject matter until he or she is assured that the student grasped the subject.
Image from Freepik.com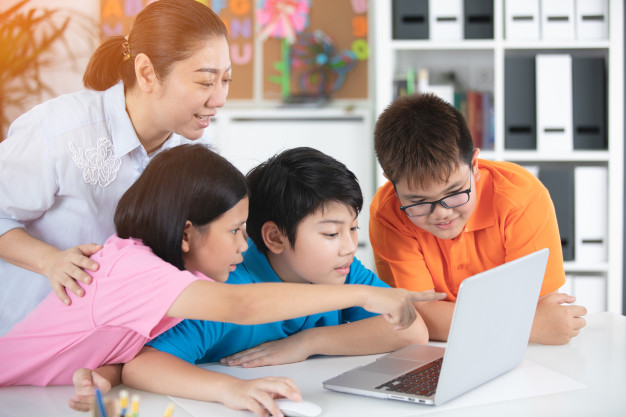 • Encourages interaction – As mentioned, virtual classrooms require the active participation of students to move lessons along. Yet active participation is not only limited to responding to the tutor real-time as the student also has to work collaboratively with the tutor in performing activities. Hence, collaborative working skills are introduced and/or boosted. Furthermore, the digital space can reduce the shyness that some students feel when they are physically around a teacher or a tutor (in a private one-to-one tuition session), making students feel more comfortable in interacting with a tutor.
• Content variety / customized learning – Because everything is just a click away on the Internet, online tutors are highly likely to explore and use varied materials and techniques to make learning interesting and fun. This is where younger children can benefit the most, as they get to see and explore learning materials such as images, diagrams, video, etc. that they don't normally use in a traditional classroom. This makes learning and retention faster and easier, as children are more likely to grasp concepts when the instruction is made to fit their learning style. This way, younger children can see that learning can be fun and is not only limited to rote learning and textbook activities.
Your options as a parent
Working with the latest tech innovations, parents can and should expect online tuition platforms to deliver what modern technology delivers best: quality and convenience. If you as a parent do not have any idea what to expect or where to start when it comes to choosing an online tuition service for your child, we've rounded up a few names and the basics about each platform. Here are seven online tuition platforms if you have a primary school-aged child:
1. Acescorers
Image from Acescorers.com
Not much information is provided on Acescorers' "About" page regarding their founder, history, and mission and vision. They have posted there, however, a list of tutors, and most of them are Math and Science degree holders from the National University of Singapore (NUS) and the Nanyang Technological University (NTU) and have an average of 15 years of experience in tutoring. The only hint about their history is that they've been "producing A students for the past five years and counting," which could mean that they've been doing tuition for quite some time now. Ace Scorers mainly offers tuition at their Serangoon Gardens or Katong tuition centres, but perhaps, due to a high demand, have launched online sessions to cater to students who can't physically come to their centres.
Website
http://acescorers.com.sg/

Online Services

for Primary Level

Skype online tuition on PSLE Science and PSLE Math Problem Sums

Rates
No information on the website
Payment method
Debit or credit card
Free class trial
None
Website design
Not as modern, user-friendly, and as informative as it can be
Mobile App
None
Perks
Tuition sessions can be done with just a smartphone with Skype installed
Downside
Not as technologically-advanced as other platforms listed here; Has no virtual classroom and uses Skype instead
2. Cudy
Back in its launch in 2018, Cudy began marketing its platform as an "online marketplace that matches online students and online tutors in Singapore in interactive live-streamed online tuition classes." At present, Cudy offers live online group and one-to-one tuition in their own virtual classroom for a number of subjects for different school levels, including tutorial classes for A-Levels, O-Levels, and IB Diploma.
Website
https://app.cudy.co/

Online Services

for Primary Level

Live online group tuition (minimum of three and maximum of six) or live one-to-one tuition for Maths, Science, and Malay, Tamil, and Chinese languages via Cudy's own virtual classroom
Rates
Starts at S$20 per class, with prices going up as tutor qualifications and experience increase
Payment method
Credit card or bank transfer
Free class trial
Available
Website design
Modern and user-friendly, with filters for searching preferred class size, dates, and price ranges
Mobile App
None
Perks
Flexible rates
Downside
No mobile app for convenient tracking of scheduled tutorial classes
3. Champion Tutor Online
Champion Tutor Online aims to "connect the best tutors right at your screen" by offering tuition services for all Primary and Secondary school levels, including A-Levels, O-Levels, IB Levels, STPM, and even college level exams for a broad range of subjects including geography, science, history, literature, and even foreign languages such as Tamil, Malay, and Chinese. Functioning as an online tuition marketplace that connects students to tutors, the platform is pretty straightforward in its transactions as students simply need to post a job or request for a tutor, chat shortlisted tutors to help the students pick a tutor, and then tutoring will commence in Champion Tutor's own virtual classroom.
Website
https://www.championtutor.com/online/

Online Services

for Primary Level

Live one-to-one tuition for Lower Primary (S1-3) and Upper Primary (S4-6) Maths, Science, and English, Malay, Tamil, and Chinese languages via Champion Tutor Online's own virtual classroom
Rates
Starts at S$10 per hour, with prices going up as tutor qualifications and experience increase
Payment method
Internet bank transfer
Free class trial
None
Website design
Modern and user-friendly with chatbot messaging support
Mobile App
None
Perks
Many subjects offered for different academic levels makes it a one-stop shop
Downside
Numerous subjects or topics can be overwhelming to navigate on the website
4. Teachnlearn
Teachnlearn is an online tuition marketplace that started out in 2017 with the aim of making education accessible to all students with the help of a team of educators who believe in equipping students through their online platform. It offers a wide array of tuition services (via their own virtual classroom) on almost all subjects to Primary and Secondary school levels as well as PSLE, O-Levels, A-Levels and IB Programme.
Website
https://sg.teachnlearn.io/

Online Services

for Primary Level

Live one-to-one tuition for Mathematics, Science, English, and Chinese
Rates
$50.00 per session + service fee of 5% = $52.50
Payment method
Credit card
Free class trial
Available
Website design
Modern and user-friendly
Mobile App
None
Perks
User-friendly website
Downside
Rates too high compared to other online tuition providers on this list
5. Tenopy
Tenopy is an online tuition service provider that was started out in 2017 by its founder Chong Kian together with his team of educators and board of advisors, calling itself "Singapore's leading education tech company." It offers interactive live online tuition programmes for primary and secondary school students in class sizes that range from small groups of 4-6 students to large groups of 15-30 students. Note that it offers programmes, not sessions, which means that it is an online group tuition platform and currently, nowhere in the website does it say that it offers one-to-one sessions. It boasts, however, of teaching its own curriculum based on the Ministry of Education's syllabus in its own virtual classroom.
Website
https://www.tenopy.co/

Online Services

for Primary Level

Live online classes or programmes in English, Science, and Mathematics at fixed daily schedules
Rates
Starts at S$24 per class per hour
Payment method
No information on the website
Free class trial
None
Website design
Modern and user-friendly with chatbot messaging support
Mobile App
None
Perks
User-friendly website
Downside
No live one-to-one tutorial option
6. Tutopiya
Tutopiya is a live online tutoring platform that provides tutors for individual lessons on a wide range of subjects including Math, English, and Economics to students aged 8-18 for their PSLE, A-Levels, O-Levels, IGCSE, IB Programme or IELTS.
Website
https://www.tutopiya.com/#/

Online Services

for Primary Level

Live one-to-one tuition for Mathematics, English, and other subjects
Rates
Not shown on the website; Depends on the student's grade level and curriculum; Offers bundle plans beginning with a Starter Plan
Payment method
No information on the website
Free class trial
Free 60-minute trial class
Website design
Modern and user-friendly with chatbot messaging support
Mobile App
None
Perks
A one-stop shop for students looking to ace national examinations
Downside
No "regular" online tuition option
7. iMath
Out of all the online tuition platforms listed here, iMath is the only one that offers purely Math tuition help to parents and students. The reason behind this is because iMath's founder Yueh Mei, (who holds a Master in Education (MEd) with NIE/NTU Singapore, as well as a Master of Arts in Education (MA) with Stanford University, USA), during her travels across the globe to teach and train teachers, saw how basic and important Math and math skills are wherever you are in the world, whoever you may be. That is why she decided to put together a team of dedicated math experts and enthusiasts, along with curated tutors, to create an online learning community that would help reach out to students experiencing difficulties in math. What iMath aims to do is not only to teach math to students but to help them master it enough for them to make confident strides in math. More importantly, iMath aims to do this not with just one "super teacher" or "super tutor" alone but with the help of an entire community including parents and students themselves.
Website
https://www.imath.sg/

Online Services

for Primary Level

Live one-to-one tuition for Mathematics
Rates
Starts at S$15
Payment method
The iMath-designed iMath wallet is the primary payment method of students and parents; credit card
Free class trial
Free 60-minute trial class
Website design
Uses modern and colourful graphics to attract young students; User-friendly with chatbot messaging support; Informative and up-to-date with a Blog page for parents researching about Maths and tuition options in Singapore
Mobile App
Available by request
Perks

• Focus on a single academic field of study assures parents the best Math assistance for their children

• A community of math experts and enthusiasts to help your child (not just a tutor marketplace)

• Easy homework help by simply taking a photo of your homework and posting it for the community to see

• A Community Wall that is free of access and is useful for quick math-related queries or quick homework help

• No need to book a tutor if it's just for simple and quick Math help

• Downloadable smartphone app for easy and hand-held access; Scheduled notifications and reminders for upcoming tutorial classes

• Affordable rates compared to other online tuition service providers

Downside
None so far
If what you're looking for is online Maths tuition that works Math wonders for your child without causing you the burden of spending too much time driving to a tuition centre or frustration over finding the best (not the nearest) tutor, then iMath may be the choice you need to make. From highly-qualified tutors who deliver customised instruction to your child in the safe environment of a digital classroom right at the comfort of your own home, flexible and hassle-free tutor bookings right when you need it, instant homework help and quick answers to your child's math questions thru our Community Wall, up to the convenient tracking of scheduled classes—all of this in a budget-friendly price. Download the iMath app today—the iMath community is waiting for you.